Courtesy of Phil's Stock World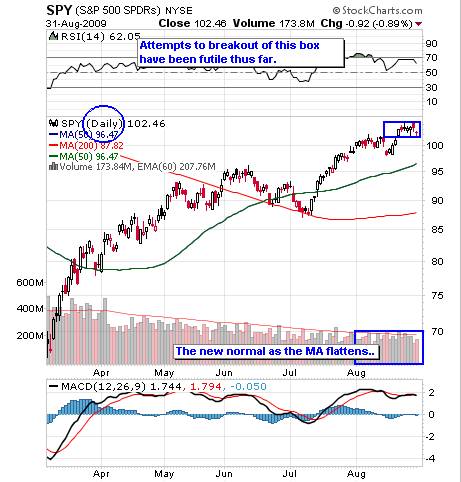 So far so good.
As I said in yesterday's post (and the weekend wrap-up), we were well-positioned for the drop – It's just a quesiton of finding a bottom now.  It didn't take very long as we found it at 9:46 when I sent out an Alert to Members saying: "Once again it's a good time to sell the DIA $95 puts at $2 as the volume on this sell-off is not at all exciting so far.  As long as the Dow holds 9,450 (now 9,475) it's a good play."  We had a couple of spikes below but, on the whole, 9,450 held like a champ and those puts hit our 20% target by the day's end (some of our quicker traders even had a chance to double dip).  That level and 1,010 on the S&P will be our critical tests today as well.
As you can see from David Fry's SPY chart, that 1,010 line on the S&P represents the bottom of the range we broke out of on Aug 21st after failing it several tiimes earlier in the month so it either holds this week or last week begins to look like noting more than a blow-off top at the tip of a downturn.
We followed through with our DIS play but we're still hoping to do better on the call sale to complete our buy/write.  We took an early stab at shorting OIH but chickened out by the end of the day and we took advantage of a nice drops in ITMN, LZB and CIM while adding protective plays by going long in TZA so it was a busier day than we planned.  We also picked up some more fills for our $100K Portfolio, as per our weekend plans and that portfolio jumped $500 on the day, which is nice for a down day and indicates we are doing pretty well on that balance thing…
At 1:03 I sent out an Alert to Members saying: "Should be stick time after a blow out bottom - I still like those DIA $95 puts sold naked for $2+, looking for .25 to .50."  We got a false run at 2:30 then a drop down to a blow-out spike at 3:30 and then, of course, the daily stick, that took up right back to good old 9,500.  The movement is getting so aggregious that even conspiracy theory-hating Barry Ritholtz is now saying: "I'm not inclined toward conspiracy theories, but it's difficult to imagine a scenario in which this is not a (frighteningly necessary) coordinated capital infusion, with taxpayer dollars ultimately at work in financial markets."  Welcome to the club Barry – One of us, one of us, one of us…
We went into the closing knowing full well that the last half hour had been fake, fake, fake thanks to another amazing performance by Goldman Sachs (played in the video clip by Julia Louise Dreyfus) as they sucker retail investors (played by Jerry and Jason Alexander) into the market by making all the right noises with a few convincing moves, all to give the impression they are participating in the rally when, in reality, they are already looking for the exits, leaving the poor retail investors broke but none the wiser in case GS want's to come by and hit them up for another dinner at a later date…
China faked it this morning with another set of good data with the government "revealing" that manufacturing levels in August expanded at the fastest pace in 16 months.  This was according to the Deputy Minister of Don't You Dare Question Our Numbers so we're not going to wonder how this happened in a month when the Baltic Dry Index was dropping like a rock and global consumer demand was off across the board.  Particularly interesting is India releasing a report on the same day, covering the same month that shows exports DECLINED for the 10th straight month in July with merchandise shipments down 28.4% from last year – and last year wasn't that good!  India has been working very hard to stimulate trade, offering tax refunds to exporters and sigining trade accords with many countries aimed at geting their 1.2Bn person economy out of the slump.
So, is India lying and making us think that their export numbers are still bad?  If that is the case then South Korea (down 20.6%) and Japan (down 36.5%) are in on it too.  Between that and the fact that the BDI is also down over 30% in August on might conclude that the Chinese are lying or perhaps the massive government stimulus has them gearing up for phantom sales that may never be realized in an innocent misinterpretation of the laws of supply and demand.  Either way you wouldn't be thinking this if you read Uncle Rupert's Wall Street Journal, which has 3 headlines touting China's "great" numbers and not one mention of India's export decline in it's Asia section (8:30).
Phil's Stock World provides frequent intraday news updates similar to this one to members. As part of a special opportunity, readers of The Market Guardian blog are offered a free subscription. Use referrer code "Braunie" (which is included in the links here) and select the $49 per month option and – using my code – your $49 subscription will be free (monthly fee will be waived) and you will receive a 20% discount on premium services, should you find Phil's Stock World to be a valuable resource. Click here to sign up.